Finally got a chance to get a vacation in since friends were visiting from the US and went to Bantayan for the weekend. We road in a van to Hagnaya and one of the retreads blew out a few Kms from the port. Put the spare on which was pretty poor but got us there. Parked in some one's fenced yard for p100/day. Then caught the ferry over to Bantayan. Don't remember the ferry cost but it wasn't much, maybe p200 each. I think it was about an hour ride. And they run every hour or so.
Took a trike to the resort. The trikes there are like tuktuks where the motorcycle is in the middle and the cab is built around it. We had 7 adults and 1 4 year old in one with bags. Cost to the resort was p20 per person. For smaller groups, pedal trikes are also about the same price. And it's about 10 blocks if you know the way and don't mind walking to save a few pesos. The resort was pretty nice, owned by a pinoy named Rey who is on hand all day. Slow wifi is available in the resto and bar areas. Lots of pedal trikes hang around the gate to take you wherever but the good restos and market area are only three blocks away. p20 if you ride. There is also a dealer guy who hangs around the gate. He arranged us scooters for p300 per day and a banka to take us to virgin island for a picnic for p1000. I think he can also get mask and snorkels for p50.
The beach is very nice and lots of palm and other trees for shade. There's also a sand bar running across the front which makes a nice pool between the beach and the open ocean. The depth of the pool depends on the tide but it's somewhat shallow and stays warm. I'm told the sand bar moves around but it seems to be in all the photos I've seen.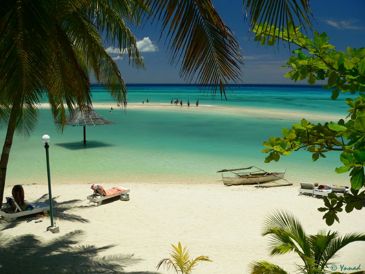 Dinner that night at the Blue Ice. Good food, decent prices, some of the worst and slowest service I've encountered. Stayed at the bar a bit afterwards and it was ok after the owner left and the music improved.
There are quite a few cottages and row houses. Prices range due to size, A/C or fan, and closeness to the beach. The first night we stayed in a fan room away (but not far) from the beach for p900. Nice enough and we didn't spend much time in the room anyway. Had a small double and a single bed. About 5AM the nearby chapel started playing music on bells. I heard it, enjoyed it some and went back to sleep. My friend from Texas couldn't get to sleep and was agitated about it. Depends on your time in the Rp I guess.
Next morning the scooters were there and we road in to the resto area to get breakfast because the resort was kind of pricey. There was a burger stand there and some of the things I would want well 'out of stock, sir.' Be warned their idea of 'cheese' is a mix of ketchup and mayo. I had 2 of the egg and bacon sandwiches (no cheese please) and took them next door to the bakery for shade and coffee. Then we went across the street to the market and bought fish, chicken, drinks, ice, snacks, uling and returned to the resort and the waiting banka. An hour and a half or so we arrived at Virgin Island which was nice and soft sand, much of it like ashtray sand. The For snorkeling you had to go out a good ways to get to interesting stuff but quite a few large schools of smaller fish and some corals. When we went about 4 years ago there was nothing on the island except what you brought yourself but now they have drinks and snacks and a nice CR. They have a good selection of cottages price by location and size. We got one well the right side which was plenty large enough for us and well away from most other people for p300. The boatmen cooked and we had a great time.
That evening we road to the city of Bantayan to see what was there. Not much. We did check out the stained glass in a church built in 1580 then rode back. Dinner that night was not at the Blue Ice but across from it at a nice place called the Cafe De Mare. Service was really excellent. Talked to the owner who said her Italian husband cooked and they had a pinoy for the pinoy food. Very good thin crust pizza and other dishes, price reasonable too.
Second night was in an A/C room on the other side of the resort because the fans rooms were already booked. A little larger room and larger CR. Bed had springs and very bouncy getting on it but comfortable enough.
My wife and I left the next morning while our friends stayed another night. Breakfast at the Cafe De Mare. I has a ham & cheese omelet for p120 and she had a pinoy breakfast. With coffees etc, I think p400 all. Took the newer A/C Cirres bus back for I think p200 each. No problems.
Edited by SkyMan, 20 April 2013 - 10:12 PM .